Free bird house plans
>
Free building bird house plans
>
Woodpecker bird house plan
---
Woodpecker bird house plan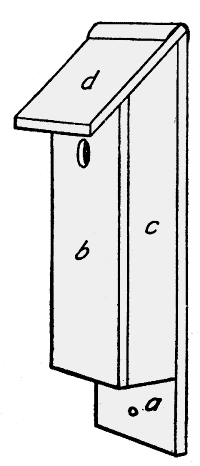 A birdhouse suitable for members of the woodpecker family and also for nuthatches and titmice, including chickadees, is shown in figure 25.
It is attached to boles of trees. The bottom is removable, as appears in figure 26.
Make sure to provide some ventilation, drill four small 1/4 inch holes just below the roof. Also provide proper drainage by drilling four small 1/4 inch holes in the birdhouse floor. Add some grooves or wire mesh below the hole on the inside and make the inside surface rough to make it easier for the birds to get out of the box.